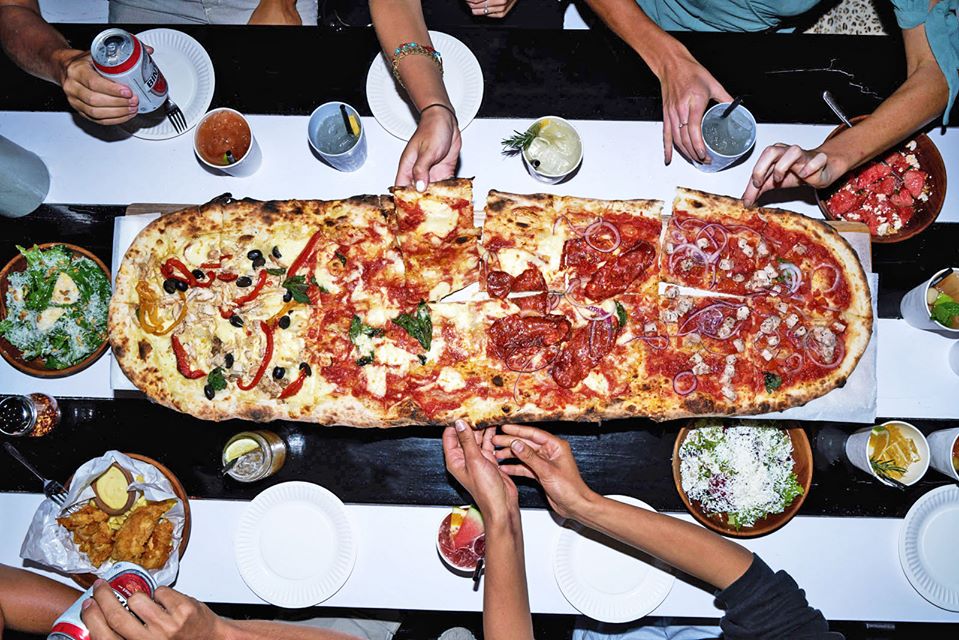 Just like its round shape, pizza exist all around the world. An international favourite that originated from Italy and turned into an international dish with the help of United States of America. Pizza of all kind exist, from franchise to the more artisanal. It exist in many places and Canggu, Bali in Indonesia is no exception.
So if you are in the Canggu area and have some craving of the Italian dish that is pizza, we got you covered. You will also be surprised of how the restaurant that serve pizza in Canggu has a flavor that can be compared to other pizza places in the world.
We choose some of the best pizza place in Canggu and nearby area. But before we give a breakdown of where it's at, how can we determine if a pizza is good?
Well, there are many suggestion how to know if a pizza is good. Theodysseyonline.com said that there some things to look for in a quality pizza. A few of them are the crust should be a perfect combination of crispy dough on the outside and soft dough on the inside. After that the sauce, like a glue that holds a pizza because it's the secret recipe for many pizzas. Lastly, the cheese that should be perfectly melted and enough gooey consistency where grabbing one slice won't pull off the cheese from the rest of pizza.
If we look back at the invention of pizza in 1889 by the citizen of Naples, Italy, the dish is simple but with the best quality ingredients. In honour of the king's wife Margherita, pizza is created with buffalo mozzarella and San Marzano tomatoes. The recipe goes on until today, so if you go into an authentic pizzeria in Naples, they probably only serve margherita and marinara.
Bbcgoodfood.com and apparently us, thinks that the key to good pizza is the simple ingredients that is tomatoes, cheese, and the dough. If there are toppings, don't overload the base, a considerable amount would be just fine. Also don't forget the crispiness!
At the end, a good pizza is the one that you honestly like. We only narrowed some criteria of a good pizza, you decide if our recommendation is worthy.
In Canggu there are some pizza places to try out, and the four restaurant that we picked are some of the best with high online reviews and have a good reputation from mouth to mouth. So have a go, try the four best pizza places in Canggu below.
Luigi's Hot Pizza
Jalan Batu Mejan, Canggu, Kuta Utara.
Opens from 5PM until 12AM.
A tourist and also local favourite, those who like to party in Canggu needs no introduction. Aside the parties like Metto Monday and Salute Satday, they serve good pizzas. Just try the simple margherita with only cheese, tomatoes, and a crispy dough. If the margherita with three basic ingredients of pizza is good, then the other menus with toppings should be good as well.
Homemade dough burned in wood oven pizzas, a classic Italian taste that you should definitely taste. Other pizza that they serve are salami with mozzarella, chili, and onion, spicy beef meatballs with tomato, parsley, parmesan, onion, and mozarella, and even a Hawaiian pizza.
Created by the people who brings Da Maria in Petitenget that also serve great pizza, Luigi's Hot Pizza has a chill vibe with indoor and outdoor places. Hang in the black and white picnic table, share a pizza with friends, enjoy some drinks, and prepare for music and dance the night away.
Cripsy Pizza
Jl. Raya Babakan No.19 Canggu, Kuta Utara.
Opens from 09AM until 10:30PM
As the name imply, Crispy Pizza pizza's is crisp to a great taste. A simple semi-outdoor place that serve classic flavour pizza such as margherita to the more modern pepperoni pizza. They also sell sweet pizza such as the chocolate flavoured pizza.
Every pizza comes with two size, the personal that is suitable for one or maybe two person and regular size that can be enjoyed by two to four people. A thin delicious pizza with a cheap price, accompany the dough with some selection of drinks such as coffee, soda, or juice.
Pizza Fabbrica
Jl. Batu Mejan, Canggu, Kec. Kuta Utara
Opens 10AM until 12AM
On to one of the two pizza places close to perfection in Canggu. Pizza Fabbrica promised its customers authentic Italian food with pizza as the main dish the everyone loves. Tomato sauce, cheese, and the homemade dough are exceptional, a balance on three that you can taste through none other than margherita pizza.
Founded by Luigi from Puglia, Italy that used to help his Father run Pronto pizza in Legian, Pizza Fabbrica brings chewy and cheesy goodness to Canggu. Other than the classic, they also sell other tomato based pizzas such as funghi that has mushroom, prosciouto otto that has ham, diavola that has hot salami, and vegetariana that mix mushrooms, eggplants, capsicums, and zucchini.
Also try the calzone, from the classic one to the folded pepperoni pizza. Vegan pizza also avalaible and they even sell pizze bianche or white pizza without tomato sauce. So taste the Italian goodness in Pizza Fabbrica for an unforgettable meal.
La Baracca
Jl. Tanah Barak No.51, Canggu, Kec. Kuta Utara
Opens 12PM-12AM
Last but not least, La Baracca that also sells Italian pizza perfection. Wood-fired and authentic, the margherita is as good as it can be. A combination of tomato sauce, cheese, and dough will take your mouth to a rustic Italy. Well, even the place is also rustic with wood and metal interiors.
A warm place to enjoy pizza or other Italian delicacy, aside from margherita they probably have the best burrata in Canggu or maybe Bali. What is burrata? It is a fresh cow milk cheese made from mozzarella and cream. The burrata pizza combine tomato sauce and mozarrella with the famous cheese, or you can try the prosciutto e burrato that adds Parma ham, rocket, and parmesan.
Have some pizza through the many mouth-watering selection. Margherita, buratta, vegan margherita that creates vegan mozzarella, salsiccia Italiana with Italian sausage, or whatever you like. Pair it with drinks or maybe some wine and you have one of the greatest meal you can have in Canggu.