Canggu is one of Bali's most up and coming areas. Surrounded by picturesque rice fields and a few of the island's best surf breaks, the town still has a hint of its old timey surfer vibe, making it a more laidback choice than some of its neighbouring regions. In recent years, as the area's popularity has increased, it has become a haven, not just for surfers, but also for young globe trotters and fashionistas. Whilst Seminyak may still retain its crown as the best of Bali's shopping destinations, Canggu is not far behind. With new boutiques and designers establishing themselves everyday, it can be hard to keep up with what is going on in the 'Gu, so here is a quick guide to a few of its not-to-be-missed stores.
1. Lulu Yasmine
Lulu Yasmine is the brainchild of French Brazilian designer Luiza Chang. Its collection is inspired by Luiza's travels around the world.  Limited amounts of each piece are made and everything has been designed to emphasise beauty and femininity no matter your body type. You can expect chic but casual clothing, with plenty of lace, some exquisite embroidery and the odd bold print chucked in for good measure.
Website: http://www.luluyasmine.com/
Location: Jl. Tegeh Sari No. 88 Kuta – 80361 – Bali, Indonesia
2. House Of Ōkami
House of Ōkami may be a new store, but its creator is a long time staple of Bali's fashion scene. The designs, which come in a range of natural colours, are classic, comfy, easy to wear and guaranteed to look great. Think tennis dresses, silk wraps and cute cropped trousers. They also have a range of menswear / unisex style clothing
Website: http://www.houseofokami.com
Location: Jl. Raya Semat, Tibubeneng, Kec. Kuta Utara, Kabupaten Badung, Bali 80361
3.  Yoli and Otis
Yoli and Otis has been around for a while now and it is easy to see why. They sell womenswear, menswear and some ridiculously adorable kids and baby's clothes. Their real selling point though is their eco-awareness, they promote sustainability and all their clothes are made using natural, eco-friendly dyes. Just because you are being kind to the environment though does not mean you have to scrimp on style. You will find plenty of beautiful floaty linens and cool cottons, just perfect for making the most of Bali's tropical climate in the utmost style.
Website: https://www.yoliandotis.com/
Location: Jl. Pantai Berawa No.12a, Tibubeneng, Kec. Kuta Utara, Kabupaten Badung, Bali 80361, Indonesia
4. Crate Concept Store
Crate Concept Store, is (as the name would suggest!), a concept store that carries a range of collections from the best of Bali's boutique designers; it's also a cafe and chill out zone. As far as clothing goes this is basically a one-stop-shop, that will give you a taster of all the best that Bali's fashion scene has to offer.
When you're done shopping for designer deals, head into the cafe for a delicious snack, or better still kick back in The Lounge with a Happy 'Bout It (Gin, turmeric, Kombucha and markisa) and enjoy the view of the rice fields.
Website: http://lifescrate.com/
Location: Jl. Canggu Padang Linjong, Canggu, Kec. Kuta Utara, Kabupaten Badung, Bali 80351, Indonesia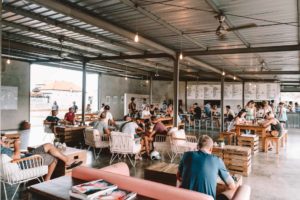 5. Magali Pascal
If you were to mix Parisian chic with the Balinese boho aesthetic then Magali Pascal is what you would end up with.  The French born designer, Magali, has created a vintage styled collection inspired by 1900s French embroidery. Every piece exudes femininity, timelessness and is almost painfully chic. There is nothing else like this in Bali and essentially, I need the entire collection in my life right now!
Website: https://magalipascal.com/
Location: Pantai Batu Bolong St No.84A, Canggu, North Kuta, Badung Regency, Bali 80351, Indonesia
6.  Lost in Paradise
Lost in Paradise has four in-house brands, each of which allows them to emphasise a different element of their design ethos, these are: 'Lost in Paradise', 'Tears of joy', 'Rock Dogs' and 'Veritas et Liberte'; there really is something for everybody. Their main focus though is on boho / surfer style island wear, pretty kaftans and summer dresses etc – so basically perfect for a holiday in the sun. They also have some great swimwear which comes in a range of innovative designs and stunning prints
Website: https://www.lostinparadisestore.com/
Location: Pantai Batu Bolong Street No.76, Canggu, North Kuta, Badung Regency, Bali 80351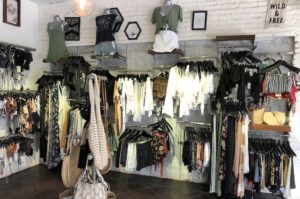 7. Beequeenies
Speaking of swimwear, you can't bring up shopping in the 'Gu, without mentioning at least a couple of dedicated swimwear brands and Beequeenies is one of the best. This is a high quality, luxury brand that comes at affordable prices. It was set up a couple of years ago by a local designer, Irin, who spotted a gap in the market for a stylish swimwear brand that focused on body positivity and helping women feel and look great no matter their shape or size.
The designs are inspired by the local environment and are as bold and beautiful as you would expect. Even better, a percentage of the profits goes to Yayasan Peduli Kemanusiaan (YPK), an NPO that provides support for Balinese people with mental and / or physical disabilities.
Website: https://www.beequeenies.com/
Location: Puri Shahana Satya Jl Nyuh Gading No 4, Tibubeneng Canggu Badung, Kuta Utara 80361
8. Salle Swim
Salle (pronounced 'sar-lay') is a designer swimwear brand whose creators were 'inspired by the coastal allure of Bali'. This is at the more expensive end of swimwear in Canggu but everything has been handcrafted by skilled artisans, so you can be assured that you are getting your money's worth. The designs are bold, distinctive and will definitely get you noticed, whether you are catching some afternoon rays on the beach, or relaxing over some poolside cocktails in the evening.
Website: https://salleswim.com/
Location: Jl. Pantai Berawa 50 Berawa, Bali, Indonesia
9. Bomba
Bomba has a reputation for its collection of brightly coloured and tropically inspired beachwear. If it is dramatic prints and bright colours, you are after, then this is the place to come. They also sell a great range of island themed homeware and accessories making it perfect for dressing up your home as well as yourself (think gorgeous retro prints and funky cushion covers) not to mention picking up a few gifts for everyone back home. Did I mention, they also sell gelato!
Website: https://www.facebook.com/Bomba.store/
Location: Jl. Batu Mejan No.33A, Canggu, Kec. Kuta Utara, Kabupaten Badung, Bali 80351, Indonesia
10. Naken
Finally one just for the guys! Naken is a Swedish /  Australian brand that sells a range of clothes designed to 'be one with you'. Their entire collection, which includes t-shirts, casual button up shirts, shorts and tanks, is handmade in Bali, giving each piece a unique finish. There's lots of washed out colours, a few funky prints and some well made basics. This 'summer-loving' brand is perfect for any guy who wants to add a bit of laid back style to their holiday wardrobe
Website: https://www.nakenthelabel.com/
Location: Jl. Pantai Berawa No.41, Tibubeneng, Kec. Kuta Utara, Kabupaten Badung, Bali 80361, Indonesia