Canggu Village Accommodation (CVA) is Bali's newest boutique hotel. It opened its doors in December 2017 and has been one of Canggus's most popular stays since opening.
Modern Features
Consisting of 14 modern private rooms, overlooking pristine rice-fields as well as the much sought after day club, Alternative Beach, CVA features architectural wooden designs reflective of Canggu's trending styles and minimalist home decor. Expect crisp white linens, raw light-woods, island style prints and homely surroundings.
Location, Location, Location
CVA is located within Gu Village, in the heart of the ever-growing Canggu. This once sleepy fishing village is now a town of yoga retreats, surf camps, bars and night-clubs, vintage motorbikes, and spectacular gastronomy. CVA is located right in the middle of it all, on Jalan Pantai Batu Bolong, Canggu's main road that leads down to the very popular Batu Bolong Beach and Old Man's bar. The rooms however are placed far enough off the main road to have privacy and laid back island vibes.
Ahhh-mazing Facilities
It's incredible facilities include a café (Eat Me cafe), a fitness studio (Wanderlust Fitness Studio), a spa (Allure Spa, due to open mid 2020) and a hostel (Kosone Hostel).
The accommodation's main feature however is the huge swimming pool in the centre of the property, known as Alternative Beach. Alt Beach boasts a fun slide, diving platform, over-pool swing, sun deck, high-speed wifi, a swim up pool bar, two ocean- view Jacuzzis and more.
Never Get Bored
Weekly activities include a Monday Movie Night, afternoon yoga on Tuesdays and Thursdays, Wine Wednesdays with a resident DJ, Salsa Nights, Pool Party Saturdays with local and International DJ's and a Sunday Sunset BBQ. Furthermore, there are a number of activities such as white water rafting, cycle tours, surfing, scuba diving and more that are arranged by the hostel.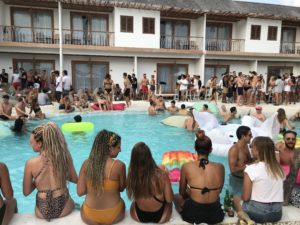 Eco-Friendly Living
What's more is CVA aims to make its daily operations eco friendly, sustainable and aim minimize their environmental footprint. Many of the materials used in the construction of the building are made of recycled woods. Furthermore, 50 percent of their electricity requirement during the day is generated through solar panels on top of the hostel. The café and day club minimizes the use of harmful single use plastics and encourages guests to refill water bottles from the drinkable water fountain.
All in all, CVA is the new place to be, don't miss out on your incredible room for your next Bali getaway.
Canggu Village Accommodation
Jl. Pantai Batu Bolong, No. 78, Canggu, Bali 80361
Hours:
24-Hour Reception
www.cangguvillageaccommodation.com
Instagram: @guaccommodation