Cafes and restaurants, it seems endless in Canggu. From old favourites to new hip eating places, grabbing a bite is a necessity but can also be a fun experience, especially when traveling! Now, we have a treat for you, a street treat with a name of pecel lele.
So many places to visit, so many dish to taste and eat. From international to local, from Canggu fanciest to street foods that sells hearty Indonesian food. You can get pizza in Italy and Canggu, sushi in Japan and Canggu. But there are some Indonesian foods in Canggu that is hard or even impossible to get in Italy, Japan, and other countries. One of them is the locally famous pecel lele that scatter on the streets of Bali.
What is pecel? Well it's a dish from Java with many varieties. What all the dish have in common is the main ingredients that is the dip or sauce. It can be based on peanut or the notorious Indonesian chili named sambal. The word "pecel" can be translated to "mashed" in Javanese, it means that the peanut or chili is crushed.
Pecel lele is one of the dish served in most pecel joint, you can find this place usually at night on the streets, from Canggu to other locations in Bali. Most of the joint is an open air shack with long chairs facing the people who will serve your food. It is easy to spot because the shack has this template of pictures on it, showing catfish, chicken, and sometimes also duck or other fish. Other than that chances are there are the words "pecel" or "lele" on it.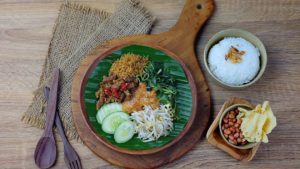 Lele is a catfish, pecel lele will serve the catfish through a deep fried method that turns the fresh water fish into a crispy delicacy filled with protein. The dish will normally be served with rice and of course sambal. Vegetables usually called lalapan that can include cabbage, cucumber, long bean, and basil will also be served as one dish.
Don't like spicy food? Well you can always eat it without the sambal. But then again, to eat pecel is to taste the sauce. You can ask the cook for a taste of the sambal, if it's too spicy for you and you feel you can't enjoy the meal, then eat without it.
Keep in mind, the sambal in most of pecel joint in Canggu and nearby is not that spicy, so taste it first. Some other way to even out the spiciness of sambal is just to dip a little bit when eating or mixed it with kecap, the Indonesian sweet soy sauce that is also served.
Beside lele, there are other menus. It differ from one place to another, but tempeh, tofu, and eggplant will be served in most pecel joints. Just like lele, the cook will deep fried the dish. It can be a side dish to your lele or served as an option for vegetarian and even vegan that doesn't eat meat. Other than lele, most pecel joints also serve deep fried chicken. Some also served duck, saltwater fish, and even the seasonal smoked fish.
The price for a pecel lele is quite cheap. Starts at 15.000 rupiah for a dish and doesn't reach to 100.000 unless you order five lele for one seating. You only have to add an estimated 2.000 rupiah if you add tempeh, tofu, or eggplant.
To eat in the pecel joint is an interesting experience itself. The place is covered with a large cloth that makes it an intimate eating in the streets. With locals that day to day eat at the place, you can get a sense of immersion with their routine. A glimpse of Canggu living that can be enjoyed by anyone. From surfers, vegan, businessman, digital nomads, all kinds of employees, to pecalang or the local security officers in Bali villages.
When you finally come inside, the long chairs will make you eat with other customers. If the cook or seller can't speak English, you could order by saying lele for the catfish, ayam for chicken, tempeh for tempeh, tahu for tofu, or terong for eggplant. You can also simply point the food you want such as chicken or tempeh in your pecel because its shown in front of the table where customers eat. Lele is normally not shown so you have to order it verbally.
Pecel joints also sells drinks. From tea that can be served with ice or hot, with sugar or not, pressed orange, and also bottled drinks if they sell it.
Pecel lele means that the main dish should be the lele, you can add some tempeh, tofu, or eggplant for sides or take all three if you are very hungry! You can also mix and match the dish to your liking. The ideal dish would be to choose a protein like lele or chicken, a side dish such as tempeh or tofu, vegetables, and of course white rice.
How's the taste? Well you definitely got to try it for yourself. But if you ask us, lele is crispy and crunchy on the outside and when it gets to the meat, the softness will make the taste whole. Sambal will complement lele, fresh vegetables, or side dish such as tempeh through a mixture of spiciness, sweetness, and some sour taste. The three main flavours are intertwined with meat, rice, fresh and fried veggies. All the taste dance in your mouth.
There any many pecel lele places to try in the streets of Canggu and beyond. From Batu Bolong, Jalan Raya Canggu, to places nearby such as Berawa and Kerobokan. What usually differentiate one pecel joints to another is the sambal. It can be more spicy or sweet, one place can be too spicy for you but another can be perfect to your taste. So what are you waiting for? Head to the street, have a taste of the pecel lele.